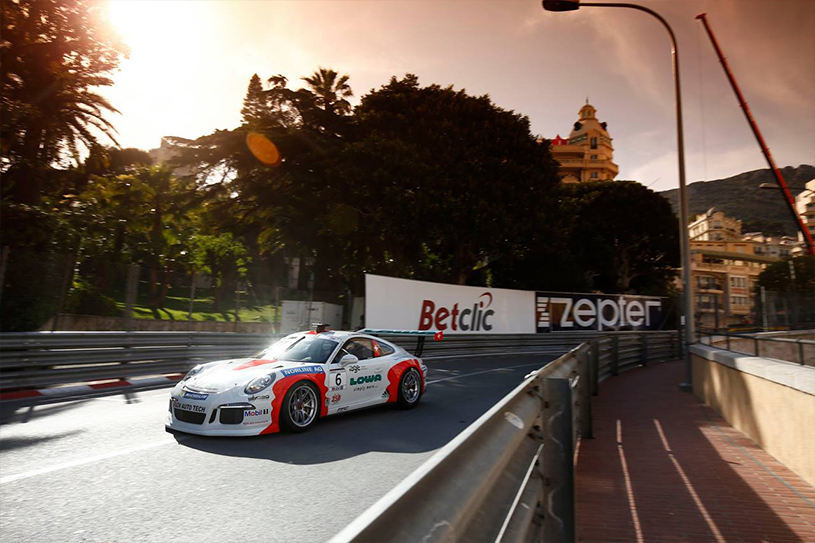 In Spielberg the bar for FACH AUTO TECH is set damn high. The Porsche-team from Sattel in Central Switzerland has made a perfect start into the Porsche Mobil 1 Supercup 2016 and has credited two consecutive victories to their account. Anything else than a walkover of Matteo Cairoli seems not expected. Philipp Frommenwiler has been unlucky in Monaco, but now all signs point to success.
Matteo Cairoli (I), #7: The FACH-Crew around the #7-Porsche burned a delightful start into the asphalt of Barcelona and Monte Carlo. After two of nine events Matteo Cairoli leads the championship with ten points to the chasers. The Porsche Junior is going to compete on the Red Bull Ring to defend his lead and possibly expand it. In preparation, he and Alex Fach have participated to the race of the Porsche Carrera Cup in Austria and recorded a podium finish in May. "We are in cheerful spirits. Matteo can create the triple, but we would be also very satisfied with a podium or top 5 result," said team chief Alex Fach. In the run-up to the race he would like to scale down the expectations.
Philipp Frommenwiler (CH), #6: After the red flag stopping of the race in Monte Carlo a competitor crashed into the #6-Porsche. The car of Philipp Frommenwiler had to be repaired after the Monaco-show first. The followed testing in Monza turned out short for the quick Swiss. Because of the Italian rain he could drive only a few laps. "Fortunately, the race at the Red Bull Ring is not far off. There we are going to show the car's potentials," expressed the 26-year-old. His confidence is supported by Alex Fach: "Ahead the race we make a detour to Hockenheim, where we home in on the upcoming event. For Philipp the top10 is a must-de, but for certain also a top 5 result is possible."
The race on the 4.3 kilometres long Red Bull Ring can be followed live on TV on Eurosport and Sky Sport 1 channel or online at racecam.de.
(petra weddige, motorsport-concepts.de; Fotos: Porsche)
---
TIMETABLE
Friday, 2016-07-01  |  Practice 16:45 – 17:30
Saturday, 2016-07-02  |  Qualifying 12:25 – 12:55
Sunday, 2016-07-03  |  Race 11:35 – 12:10
---
PORSCHE MOBIL 1 SUPERCUP ON TV
Sunday, 2016-07-03
11:30 live
Eurosport andSky Sport 1 Kanal
Summaries and repetitions can be watched on Eurosport during the following week.
---
PORSCHE MOBIL 1 SUPERCUP CALENDAR 2016
05-15 Barcelona (E)
05-29 Monte Carlo (MC)
07-03 Spielberg (A)
07-10 Silverstone (GB)
07-24 Budapest (HU)
07-31 Hockenheim (D)
08-26 Spa-Francorchamps (B)
09-04 Monza (I)
10-23 Austin (USA)