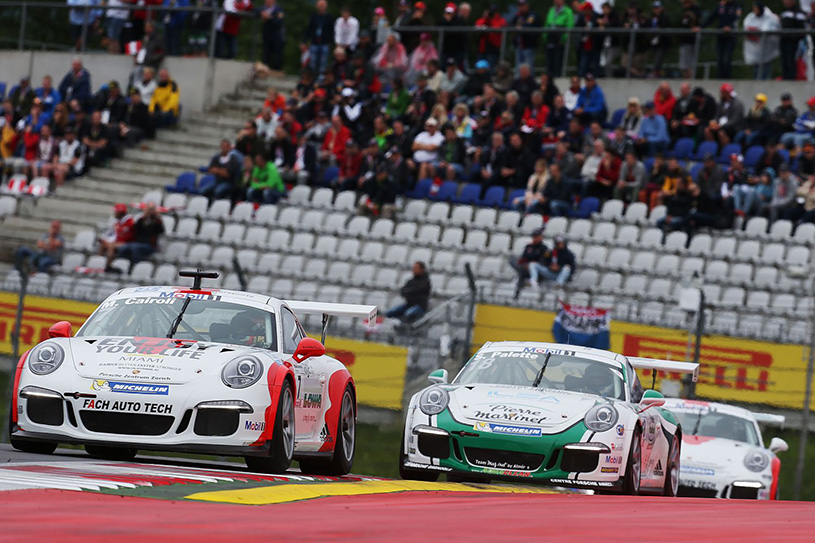 Although the topical leader of the Porsche Mobil 1 Supercup just missed the podium this weekend, FACH AUTO TECH rejoices over the sixth place of the Swiss Philipp Frommenwiler. Matteo Cairoli was fourth at Red Bull Ring.
Matteo Cairoli (I), #7: Initially around the white Porsche with # 7 everything ran as usual on the 4.3 kilometre race track of Spielberg. In a thrilling qualifying Matteo Cairoli grabbed the third pole position on the bounce. "We are all pretty close to each other," the youngster commented on the power density of the starting grid – fourteen competitors completed their perfect lap at a distance of less than one second. "The team did a great job. I'm totally happy."
"Tutto a posto!" could have been reckoned, but after the first lap of the race on Sunday morning, the Italian found himself on fourth position. At the start Sven Müller and Mathieu Jaminet had shot past him. The FACH-pilot couldn't hold Jeffrey Schmidt behind himself on the first kilometres too. Next the 20-year-old was nailed on the fourth place because three Safetycar- and countless yellow-phases prevented an attack on the podium. The Porsche-field crawled behind the silver Mercedes Safetycar of Bernd Mayländer for many laps. After 16 rounds Matteo Cairoli crossed the finish line just behind Jeffrey Schmidt.
Matteo Cairoli: "At the start I had to detach the clutch because otherwise I would have risked a jump start. When the lights went off, I was chanceless against Sven, Mathieu and Jeffrey. During the race unfortunately there was no option for overtaking."
"Probably under normal circumstances, Matteo would have recaptured one or the other place. Nevertheless, the result corresponds with the targets of this weekend," team chief Alex Fach said. He was pleased about the top 5 result. With a yield of fourteen points his protégé is still leading the championship.
Philipp Frommenwiler (CH), #6: This weekend Philipp Frommenwiler has scratched a performance graph into the alpine asphalt. On Friday the Kreuzlinger could hardly drive. After only three laps he had to park his Porsche for repair at the FACH box because of a defective wheel bearing.
Despite this experience residue on the competition, he managed to put his car on the ninth starting position on Saturday. He lacked only a blink of half a second to his teammate and poleman Matteo Cairoli. The Swiss was confident after qualifying: "Once I was able to drive only two laps yesterday, in ninth place we have rather brought out the maximum. I am looking forward to the race."
On Sunday morning a perfect start catapulted # 6 onwards to the sixth. Philipp Frommenwiler used the start hubbubs for himself. He sent Christian Engelhart and Ben Barker down some places and struggled over the entire race distance and three re-starts successfully against all attacks.
"It's a big break for Philipp – a splashy result," Alex Fach annotated the performance of his driver. In the overall standings Philipp Frommenwiler climbs to seventh position with 23 points.
The next points and trophies of the Porsche Mobil 1 Supercup are going to be distributed on 10th of July at "home of British Motor Racing". Traditionally the heroes of the fastest Porsche brand trophy series are competing in Silverstone (GB).
Last minute update: Proceedings are initiated against Matteo Cairoli due to lower weight. FACH AUTO TECH has lodged an appeal. A decision is still pending. (petra weddige, motorsport-concepts.de; Fotos: Porsche)
---
PRACTICE
1. Mathieu Jaminet 1:32,794
2. Klaus Bachler +0,180
3. Christian Engelhart +0,202
…
8. Matteo Cairoli +0,444
29. Philipp Frommenwiler +17,23
---
QUALIFYING
1. Matteo Cairoli 1:32,174
2. Mathieu Jaminet +0,003
3. Sven Müller +0,091
…
9. Philipp Frommenwiler +0,590
---
RACE
1. Sven Müller 16
2. Mathieu Jaminet +1,319
3. Jeffrey Schmidt +2,093
4. Matteo Cairoli +2,466
5. Steven Palette + 4,232
6. Philipp Frommenwiler +6,013
---
STANDING DRIVERS
1. Matteo Cairoli 54
2. Mathieu Jaminet 48
3. Sven Müller 43
…
7. Philipp Frommenwiler 23
---
STANDING TEAMS
1. Lechner MSG RT 81
2. FACH AUTO TECH 77
3. Martinet by Almeras 68
---
PORSCHE MOBIL 1 SUPERCUP ON TV
Summaries and repetitions can be watched at Eurosport 2 during the following week.
---
PORSCHE MOBIL 1 SUPERCUP CALENDAR 2016
05-15 Barcelona (E)
05-29 Monte Carlo (MC)
07-03 Spielberg (A)
07-10 Silverstone (GB)
07-24 Budapest (HU)
07-31 Hockenheim (D)
08-26 Spa-Francorchamps (B)
09-04 Monza (I)
10-23 Austin (USA)