Today's focus is completely on car paint, or more exactly, on car refinishing paint. The André Koch AG has devoted itself to this literally 'all-enveloping' issue, which is the reason we've set out with two of our drivers to learn more about its often very colourful secrets.
The Swiss company not only stands for strong customer orientation, but also for a process of ongoing optimization. High dynamics, constant further development and conscientious promotion of new talent embody their fundamental characteristics, which also play a significant role in helping the FACH AUTO TECH team achieve excellent performance.
Cooperation between the industrial company and the Sattel race team started in 2016 and CEO Enzo Santarsiero regards the synergy as vitally important. "Our partnership gives us the opportunity to test our products under extreme conditions – in other words, in fiercely contested races, where there may well be metal contact and paint exchange!"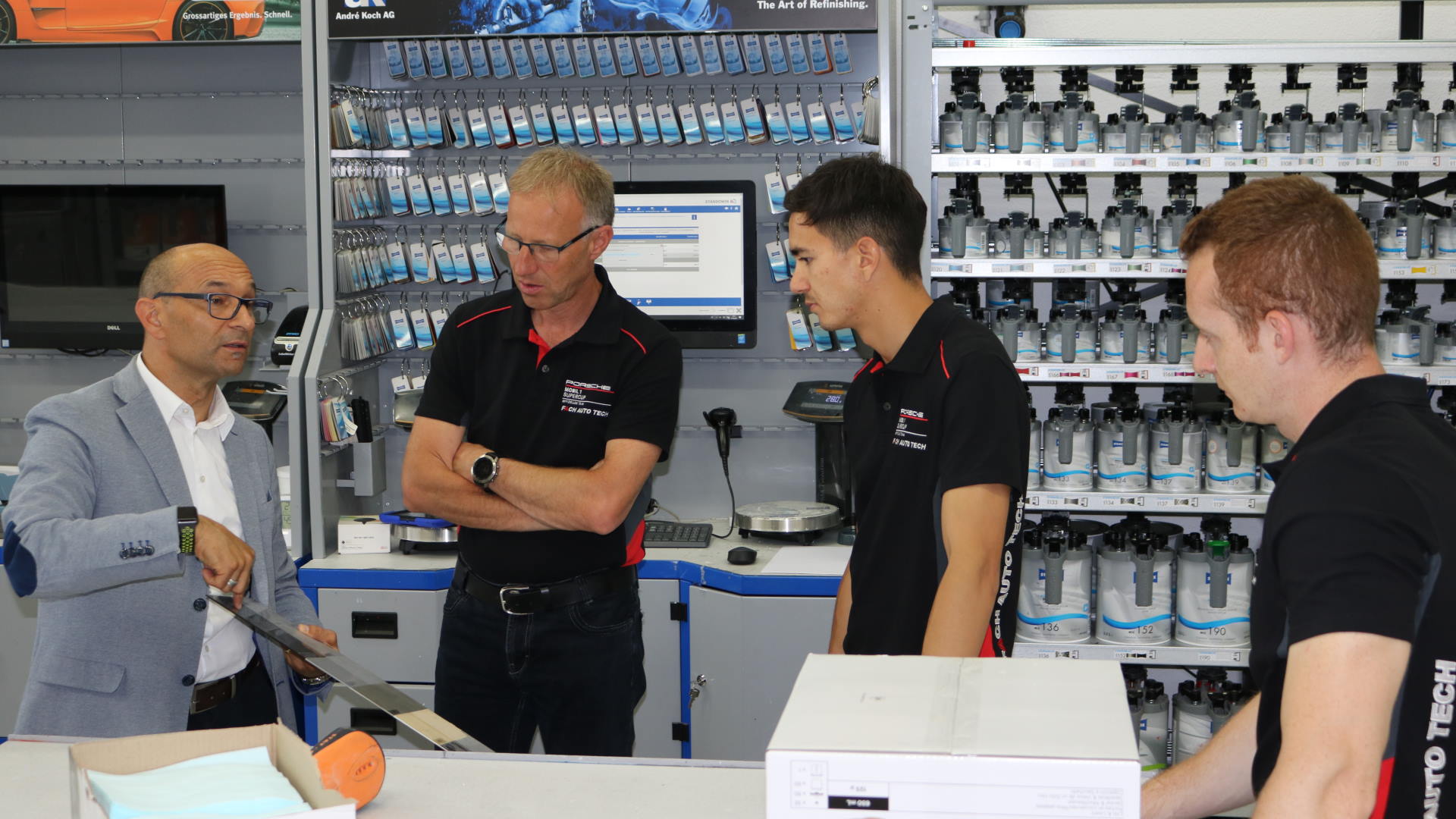 Team Principal Alex Fach accompanied the two young drivers Florian Latorre and Jaxon Evans to the Munich production site, where the new training centre is situated. Here, for example, sales staff can learn how to optimally and effectively use the product range.
Above all, the visit meant the drivers could take a closer look at the bigger picture. They were not only able to learn about training procedures and possible parallels to motor racing, but were also given a huge portion of expertise for the future. For instance, what specific features colours and paints possess.  So, after the next tussle on the track, both Porsche drivers can now better understand what has actually happened between the paint particles of the involved car bodies  – and why.
"We're always happy to offer a deeper insight into our company and especially when longstanding partners such as FACH AUTO TECH are interested in our work. And personally welcoming two so talented young drivers is definitely a highlight in our partnership", said the delighted CEO after the visit. We look forward to more years of exciting and successful cooperation and would like to say a big thank you for such warm hospitality.