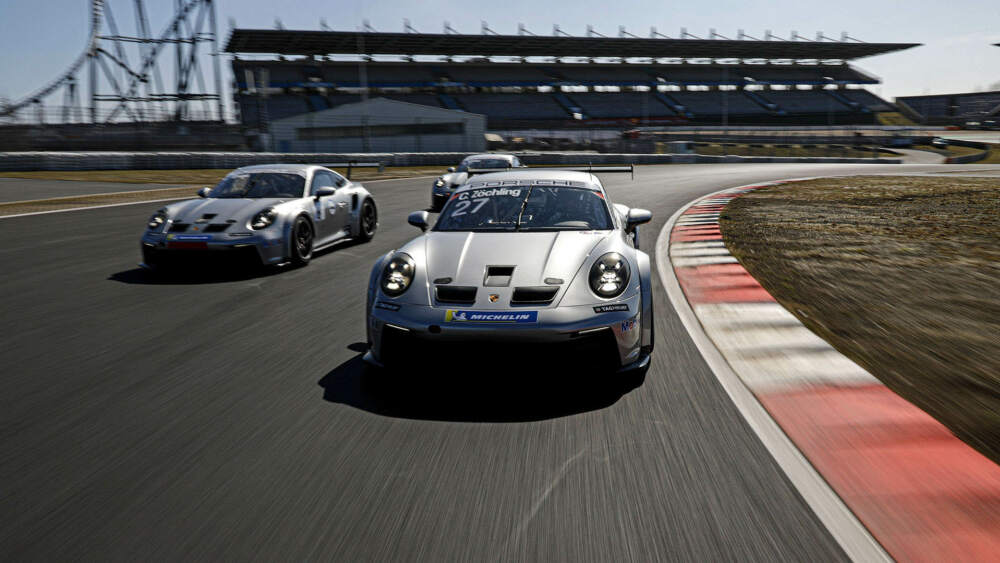 FACH AUTO TECH fights for two championship titles in 2021: In addition to its Porsche Mobil 1 Supercup commitment, Alex Fach's squad will be driving three new Porsche 911 GT3 Cups in the Porsche Carrera Cup Deutschland. It's the Swiss team's second season in the German one-make trophy, where it secured an overall fourth place in 2020. In terms of driving, Sandro Kaibach, Christof Langer and Christopher Zöchling will provide the team with extensive racing know-how.
"In both series, we've ensured that we can rely on experienced and talented drivers at the wheel", Fach explains. "The opportunity of being able to draw on diverse experiences, especially with a new car, is particularly valuable and Sandro, Christopher and Christof place us in a fantastic position to get the most out of the car."
Having already been confirmed for the Porsche Mobil 1 Supercup squad, Christopher Zöchling will also be climbing into the cockpit for the Sattel-based team in the Porsche Carrera Cup Deutschland. Most recently, the Austrian participated in the national one-make trophy and took an overall fourth in the standings. The 33-year-old will again be relying on his expertise in 2021: "Driving with a strong team in two series at the same time is an optimal position to ensure maximum performance. With every kilometre driven, I discover more about the car and I can implement that on the track."
Youngest member of the team is a newcomer to FACH AUTO TECH: Sandro Kaibach already competed in the Porsche Carrera Cup Deutschland in 2018 and 2019 – back then in the predecessor car based on the 991. The 23-year-old from Bregenz held his own in the highly competitive field, securing points and continually improving his performance. He feels confident about even more improvement in 2021: "The championship is one of Europe's strongest one-make cups. I might be new to the team, but the team's work isn't new for me. Last season, I could tell what the FACH AUTO TECH team stands for and ultimately that's what made me decide to become a part of it."
Also joining the team is Christof Langer, a well-known driver, who already competed with the Swiss in the 2018 Porsche Mobil 1 Supercup, and now returns to Alex Fach's squad. The 54-year-old is looking forward to the collaboration: "I have fantastic memories of the time with FACH AUTO TECH. Monza 2018 is a good example. I'm sure this season will be a good one too. I was able to experience the new car at the delivery event – I was impressed."
The Porsche Carrera Cup Deutschland season kicks off as part of the FIA WEC programme from 29 April to 1 May in Spa-Francorchamps. In the course of the year, the series will be staging races in conjunction with the ADAC GT Masters as well as the DTM.