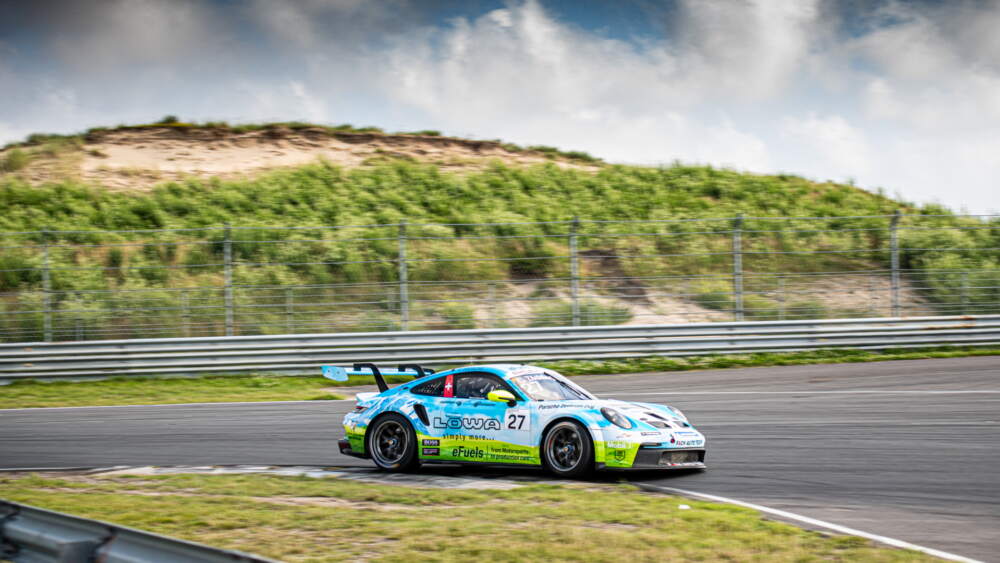 Race weekends at the Zandvoort dune circuit are a special experience. The track on the Dutch coast impresses not only with its spectacular scenery but also with proper action. We've summarised the highlights of our trip to the beach.
The modified track. The circuit on the Dutch coast has undergone several changes to accommodate Formula 1. And the result is impressive: The new 18-degree banked turn impressed drivers and fans alike. On the track, it delivered plenty of variety and a wide range of potential racing lines. "It was exciting to see how everyone searched for the ideal line through the turn at the beginning. With the incline, it's really not that easy, but the course is definitely great fun," says Sandro Kaibach.
Overtaking galore. The two rounds of the Porsche Carrera Cup Deutschland clearly proved one thing: The circuit offers plenty of racing action. Especially Christopher Zöchling delivered top entertainment with numerous battles and overtakes. However, the 33-year-old wasn't truly satisfied despite setting the third-fastest lap of the race: "Qualifying is a bit of a problem at the moment. We can't seem to get a top position. When you start from midfield, it's hard to move up in this tight pack of cars," he explains. "In the races, however, we had good pace and I was able to push. But I simply couldn't finish higher than tenth and ninth."
The fans. Spectators at the track are not a matter of routine this year either. Which is why we were all the more pleased to see spectators at the Zandvoort dune circuit once again.
A cheese helmet. Drivers always choose special liveries for their racing helmets. Just in time for the fifth race weekend of the season, Christopher Zöchling's new helmet arrived – in an eye-catching cheese design. Thanks to this, the Austrian-born driver not only went down well with the Dutch fans but also prompted plenty of buzz in the paddock.
Our verdict: We're definitely in the mood for more! For the Porsche Mobil 1 Supercup, we'll be back from 3 to 5 September. But prior to that, we're headed for the race in Budapest on 1 August.