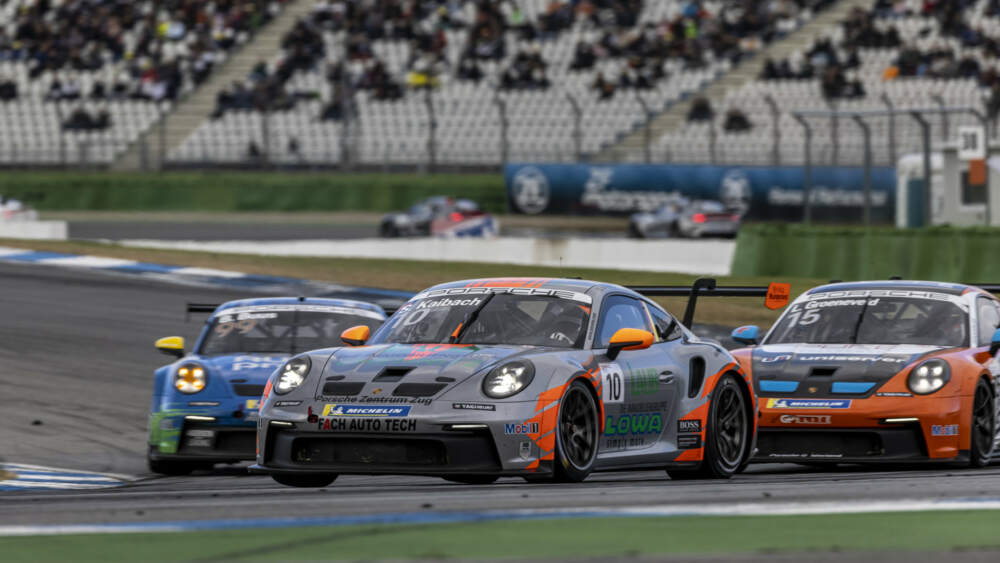 16 races on eight events in five countries: the finale at the Hockenheimring closed an eventful season for FACH AUTO TECH in the Porsche Carrera Cup Deutschland. In the end, Alex Fach's squad succeeded yet again in attracting attention with its strong recoveries.
Saturday's race is most likely to be remembered by the Hockenheim fans. Christopher Zöchling, who started from tenth on the grid, impressively demonstrated his combat strength and worked his way through the field. The 33-year-old Austrian was rewarded with a sixth place and on Sunday he repeated the procedure by overtaking six opponents and ranking sixth yet again.
"Christopher's performance proved once again that we can be really dominant in the field", Alex Fach sums up. "However, everything has to fall in place. A bad qualifying result often dashes our chances of a better result and we haven't always got the most out of it. We need to be honest with ourselves here."
Nevertheless, Fach is taking a lot of positive things home from the season – for example, Christof Langer's improvement. "He's made huge progress throughout the year", says the Team Principal. "And proved it explicitly with his lap times in Hockenheim. He reduced the gap to the frontrunners during qualifying and also drove consistently in the race."
Reducing the gap to the front – that was Sandro Kaibach's task in the season's last race as well. After a difficult qualifying, the 24-year-old achieved just an 18th spot on the grid. However, courageous manoeuvres finally brought him a 13th place and another chase through the field.