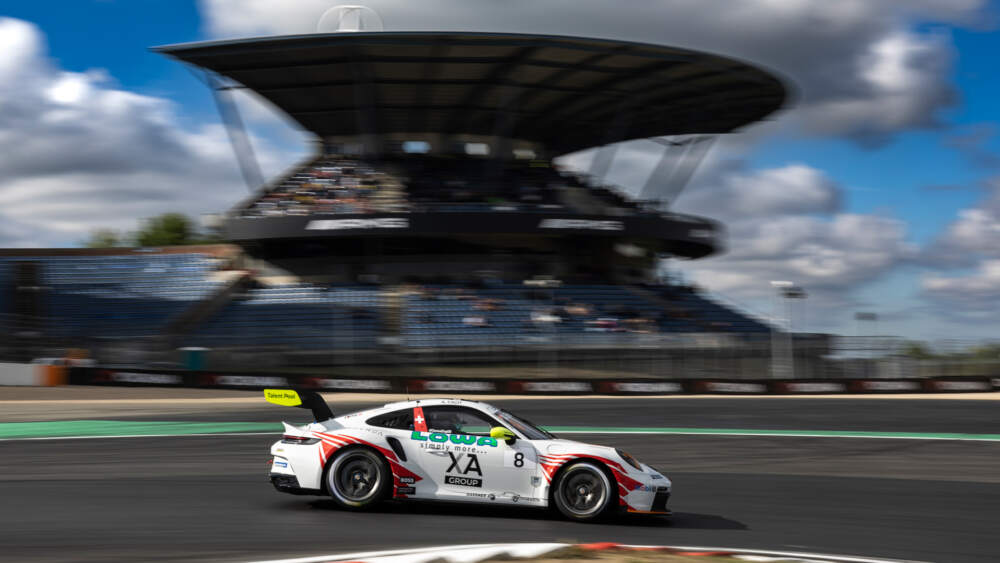 After a bumpy start to the Porsche Carrera Cup Deutschland race weekend at the Nürburgring, things stayed rough for the FACH AUTO TECH team. Despite a class win in the first of the two races, the squad had to face unexpected setbacks in the Eifel. Especially on Sunday it took a battering.
"It was a patchy weekend. After a difficult free practice in the fog and a challenging qualifying, it became even clearer after the first race, that our drivers must be bolder and take more chances. Reaching the forefront successfully demands courage. The fact that our drivers got in each other's way in the start phase, was of course more than disappointing. That's the worst thing that can happen to a team and we now have to analyse what led to this error", summarised Team Manager Alex Fach.
Lorcan Hanafin was brilliant in the first run in the Eifel and clinched another Top 10 position and his fifth class win in the rookie rankings. This enabled him further to extend his overall lead in the youngster class. Race two began for the young Brit with a spin in the opening phase, also involving teammate Alexander Fach. The 19-year-old then had to join the end of the field, but managed to finish with an overall 16th place, ranking as fourth-best rookie.
Alexander Fach's start position in the second race looked more promising than the previous day. The young Swiss launched from eighth on the grid, but got stuck in the initial scrum and collided with Hanafin. Damage to the radiator resulted and caused Fach to spin again, forcing him to resign from the race before the first lap was completed. "Those are moments that are also part of sport, but they're far from pleasant. And this shouldn't happen within the team. Things must get better in the next round, they can't really get worse anyway", the youngster Alexander Fach commented on his fluffed start.
FACH AUTO TECH drivers get another chance from 18th-21st August at the Lausitzring. Christof Langer, who finished fourth in the Pro-Am class on the Nürburgring, will be back on the team again for the Brandenburg event.