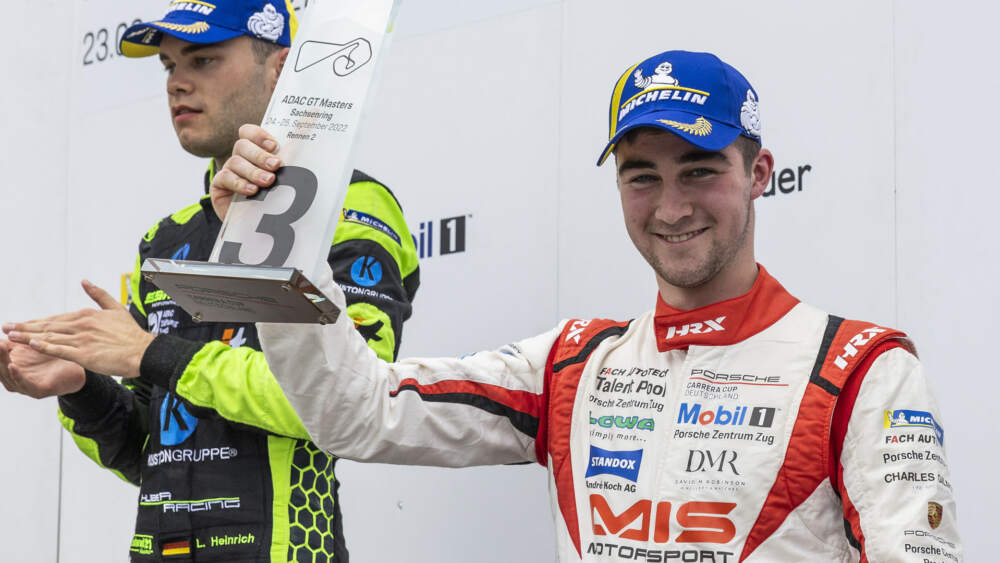 It was a successful day for Lorcan Hanafin and FACH AUTO TECH: at the Sachsenring, the Brit not only started from the front row for the first time, but also scored his first top 3 success in the Porsche Carrera Cup Deutschland.
"You can't imagine how happy I am! This race was really fun," said the 19-year-old junior driver. "We knew that second place would be a perfect starting position. If you start from the front in the Cup and have a good pace, that's half the battle won. Now we could finally show it."
Before he could celebrate, Hanafin happily got involved in the fight for the top spots. In the half-hour race on the rollercoaster track, he proved that he could match the pace of the top drivers in the cup. "That makes it all the better," says Alex Fach. "Because this way Lorcan has once again gained a lot of self-confidence."
With this podium finish, the FACH AUTO TECH crew continues a successful streak of podium results at the Sachsenring for the third consecutive year. After Diego Bertonelli in 2020 and Christopher Zöchling in 2021 achieved a top 3 result, Lorcan Hanafin continued that with his most recent finish.
Meanwhile, Alexander Fach took third place in the rookie classification. He was even leading his class until shortly before the end of Saturday's race when he was overtaken by two competitors after a restart. Christof Langer finished fourth in the ProAm class.