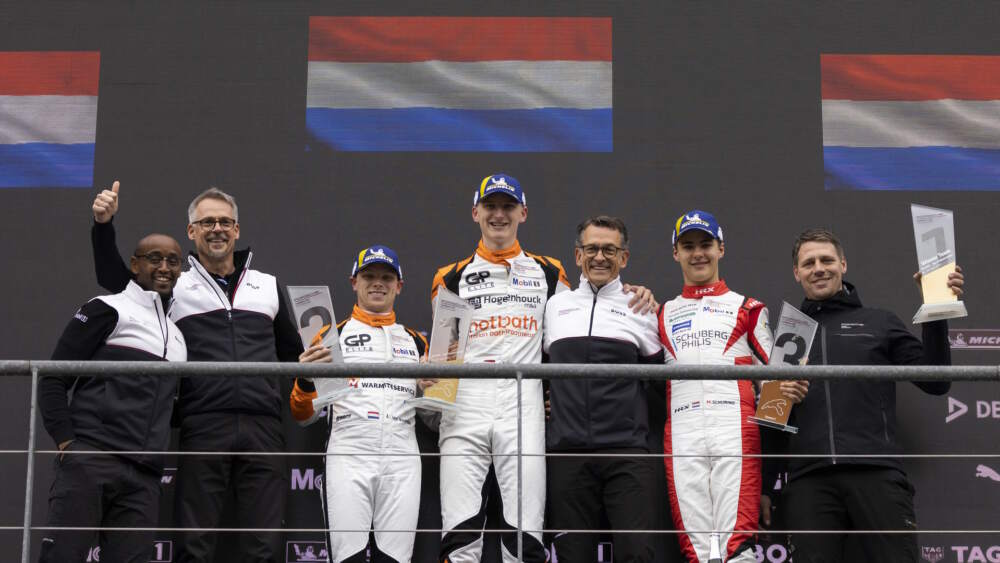 FACH AUTO TECH began the 2023 Porsche Carrera Cup Deutschland season as they mean to go on, with new signing Morris Schuring finishing on the podium in Belgium The 18-year-old was in sparkling form in Spa-Francorchamps, showing plenty of perseverance across all of the sessions. Meanwhile, Schuring's teammate Jasin Ferati handled his series debut with aplomb, securing a noteworthy result in the Rookie classification.
"Summing up this weekend is no easy task," said team principal Alex Fach. "The two races were pretty spectacular, and we were fighting for the win in both. I take great pride in Morris' third place, as that shows we have a great foundation for the 2023 season. But we still have some work to do to make the best of this season."
Schuring certainly made the best of race two, which took place on Saturday morning, gaining ground in the opening stages in damp conditions and settling in fourth position. At the midway point of the race, Schuring then made his way past Harry King and into third. "I am happy with the result, and I was close to grabbing second position too", said Schuring.
Debutant Jasin Ferati got some first-hand experience of how tough the racing in the Porsche Carrera Cup Deutschland can be. The reigning champion of the Porsche Sports Cup Suisse was making his maiden appearance in the German one-make series in Belgium. "I already had an idea what would be awaiting me in the Carrera Cup Deutschland," the youngster said. "But this weekend I got a proper taste of how high the level is in this championship. In Spa I could see where we are with the car and what I need to work on."
Despite the tough racing, Ferati proved there's one thing he will never do: give up. After spinning in the opening stage of race one, the Swiss driver put together an impressive performance in race two, finishing in 19th overall and sixth position in the Rookie classification.
Teammate Alexander Fach had a tough weekend in the Ardennes. The 20-year-old had to start both races from the middle of the pack and was forced to retire in the second race.
Post-race penalties saw the team be disqualified from Friday's race. Screws on the front bumper were found to be loose on all three cars. The team opted against appealing the ruling, as otherwise they wouldn't have been able to start race two on Saturday.